A Little Bit of History
Brown County, Indiana
In 1856, Lewis Cass Tilton and his wife, Elizabeth Lacey Tilton trekked by covered wagon with 6 children, an ox and a cow from Coshocton County, Ohio to settle 40 acres of virgin Brown County land. Since then six generations of Tiltons have made Brown County their home. They share not just a common name, but a determination to make a life -- a wonderful life in what has been known as "The Peaceful Valley". To that end they have chosen a wide range of occupations including, doctor, banker, preacher, grocer, farmer, furniture maker, teacher, and owners of many different businesses. In the spirit of those original pioneers, and to honor their legacy of faith, hard work, sacrifice and devotion, the Cornerstone Inn was established in 1993. It is our desire to bless our guests and future generations in the same manner.
To God Be The Glory!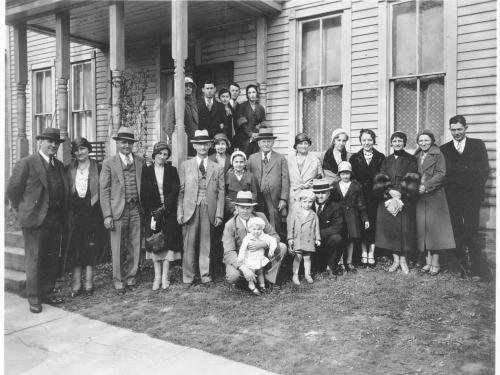 Photographer Frank Hohenberger captured this record of a 1930's Tilton Family Reunion in Nashville.
Most of the adults in this photo have rooms named after them at Cornerstone Inn.
Cornerstone's Timeline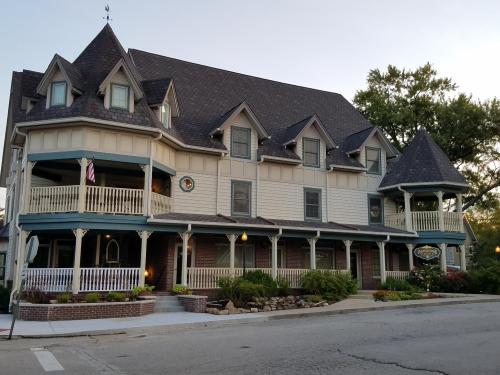 December 23, 1939: Fredric L. Tilton (1913 - 2006) and Gladys G. Satter (1913 - 1992) tied the knot and set up housekeeping in a tiny home at the end of Nashville's West Main Street. Not long thereafter, they purchased Nashville's Lot 10. The simple home on the lot was originally a barn. Lot 10 was deeded to Pam (formerly Tilton) and her husband nearly 50 years later.
February 1993: Lot 10 was cleared in preparation for a whole new concept, The Cornerstone Inn, with three retail shops on the first floor, a museum in the lower level and guest rooms on the second and third floors.
October 1, 1993: Cornerstone Inn opens its doors to our very first guests. Each of the sixteen guest rooms were named after Brown County ancestors and appointed according to the period in which they lived. Two rooms had very large marble whirlpool tubs. Continental breakfast was prepared off-site and served in the third floor Tower Room. Laundry was taken care of at our local laundromat by Pam, her four children, and after May 1994, Fred's wonderful new wife, Leona.
Spring 1995: A tiny kitchen was carved out of a closet in the lower level, launching the small beginnings of Cornerstone Inn's "home made" breakfasts. Until a broken ankle in 2012, Pam worked in the kitchen every day, many times all day - a labor of love (most of the time).
New Years Day 1996: Our first full breakfast, which every day since has included hot entree selections.
Fall 1998 through Summer 1999: A major renovation transformed two of the first floor retail stores into four beautiful guest rooms, and completely renovated the lower level. The breakfast room moved to this new space. It also included a meeting room, vending area, laundry room, commercial kitchen, restrooms and a small office. The third floor Tower room, formerly used as the tiny breakfast nook was combined with a small room next to it to become our very first suite. Cornerstone Inn now had 20 guest rooms, including 8 whirlpool tub rooms.
February 2, 2002: Pam Tilton married Bruce Gould. Since June 1983 and until August 2011, Bruce served failthfully as Nashville's Postmaster. He gradually began taking on hotel chores and projects whenever he could.
June 2004: Cornerstone Inn began leasing the second floor of the building located at 87 East Main Street. Pam's vision and Bruce's hard work resulted in a complete renovation of the space to include a common area and five new guest rooms, known as The Upper Rooms.
May 2005: 1.2 acres of property directly to the east of Lot 10, extending north to Main Street, and adjacent to the Upper Rooms Building was purchased. The property is the site of the former Village Motel, which opened in the 1930's. Mrs. Tudie Kuhn owned and managed the motel from the early 60's until 1996. It had many small 1-2 unit buildings that were "modernized" with "dry gas" heat in the 1940's and indoor plumbing in 1960. Bruce began renovations on Tudie's house, saving it from the wrecking ball. The remnants of the old Village Motel buildings were removed. One of the units, fondly remembered as The Smokehouse was moved here in the 1930's from Elkinsville, Indiana. It was a 12' x 12' amazing log structure, originally built in the 1880's for preserving meat. It had an emormous 14' long 12' deep an about 5' thick board that spanned it from front to back. The Village Motel outfitted it with a full size bed and added a bathroom. Bruce and Pam disassembled the structure and donated it to the Brown County Historical Society which has since rebuilt it near the Old Log Jail, just a little more than a block to the north of it's previous address. It was no doubt the most honeymooned in room in Nashville for many years. Check it out!
December 2005: A driveway, now known as Cornerstone Lane was cut through the new property to connect the Main House to the Upper Rooms and Main Street.
January 2006: The owner of the business occupying the last remaining retail shop in the Main House retires. The space is converted into an additional meeting room, now known as The Chapel.
October 2006: Bruce and Pam moved into the house on the newly acquired property, now known as Tudie's Cottage, fully enjoying a very short walking commute to the Inn and Nashville's Post Office.
August 8, 2008: We broke ground for our largest project to date - the construction of the three Cottage Suite Buildings, located on the 1.2 acre site of the former Village Motel. A two level garage was also constructed next to Tudie's Cottage.
January 1, 2009: Cornerstone Inn, the sole proprietorship of Pam, became Seventh Sense LLC, dba Cornerstone Inn. Seventh Sense LLC was then positioned for property management.
June 2009: The 12 new Cottage Suites were opened to guests.
September 2009: Pam finally realizes she is in over her head and hires Cornerstone Inn's first manager, Chad Kritzer. He does a superb job managing all building maintenance, the housekeeping, kitchen and laundry staff. Chad's new bride, Lauri also joins the team in October 2009, bringing expertise in prayerful strategy, guest relations and group sales coordination.
Winters 2009, 2010 after work: Bruce finishes out the upstairs levels of the garage next to Tudie's Cottage creating a two level studio apartment with a fun secret stairway, making a great spot for our now grown children to hang out in while back in town. This space was nick-named the LOFT, an acronym for Love Of Family Time.
August 2011: Bruce retires from the Post Office.
September 2011: Property located at 360 N State Rd 135 is purchased at a sheriff's sale. The log cabin located on it was in disastrous condition, making it a perfect transitional project for Bruce. He completely gutted it. We discoved the front porch which had been completely enclosed and used for storage. At one point during the project, it had no plumbing, no HVAC, no kitchen, no stairs, no windows, almost no floors, and no chinking between the logs. We won't go into detail about the massive site work needed on the grounds. Whew! What a miraculous transformation.
November 2011- April 2012: A screened gazebo is added to the Cottage Suites Courtyard and new exterior sidewalks are installed in front of the Main House. A first floor guest room is converted to a large new welcoming lobby area and the old lobby is converted to a real office for Lauri. New HVAC systems are installed on the first floor and another first floor guest room gets a total makeover.
August 2012: While rezoning the Cabin 360 property for eventual use as an overnight vacation home, Bruce and Pam move into it (quite a downsizing experience), and prepare Tudie's Cottage for use by overnight guests.
September 2012: