Published in Our Brown County in 2009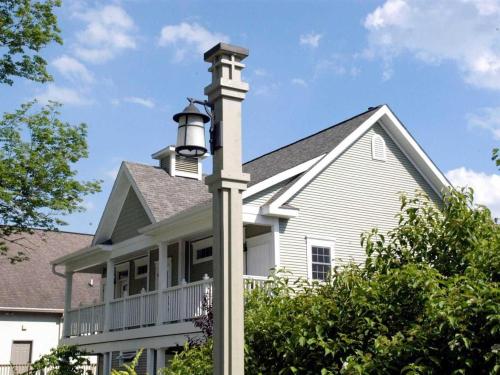 by Jessica Gall

With three new cottages, homemade desserts, and a big helping of Hoosier hospitality it is easy to see why Pam Gould's Cornerstone Inn is flourishing in the heart of Nashville.
An open house to showcase the new buildings on August 6 drew a crowd of a couple hundred people, of which many were locals. "Without Brown County we're just nothing, so we really wanted to get the word out," Pam said about the purpose of the open house. That strategy worked as guests from the Aug. 6 event have already made numerous reservations.
Pam and Bruce Gould purchased the property for the new cottages in 2005 to expand their already popular bed and breakfast business. Each of the three buildings has four rooms—two on the ground floor and two up above. The new rooms are all fully furnished with antique furniture yet have the best of modern conveniences. There is a whirlpool bathtub, tile bathroom floors, microwave, mini-refrigerator, flat-panel LCD television, and screened-in porch in every new room. "We frequented every antique store in at least three states," Pam remarked of the room furnishings, which include beds, desks, dressers, and more. "Each room is furnished differently, so no two are the same." Eight of the rooms include king size beds, perfect for honeymooners, noted Pam. The other four rooms have at least two beds, ideal for "girlfriend" gatherings or family vacations.
Outside the rooms is a pleasant view of a creek and of the beautifully landscaped yard of ornamental grasses, cattails, evergreens, and pink, yellow, and white flowers, all edged with Brown County stone. "Bruce is just yard crazy," Pam said about her husband, who did all of the landscaping and by day serves as the Nashville postmaster. "Bruce spends a couple hours every evening working and tending to things."
The Goulds continue a long legacy of the hospitality industry on that property between Franklin and Main Streets in downtown Nashville. Tudie Kuhn was the administrator of the Village Motel prior to Pam starting the Cornerstone Inn in 1993. Pam is well versed and respectful of this long history, even naming one of the guest rooms after Tudi, as well as purchasing some of the Tudi's old artifacts, such as a Village Motel sign, rocking chair, and an oil painting. Pam and Bruce even live in Tudie's old home, which is on the same property.
"We've kept Tudie's little legacy going," said Pam. "It's the same atmosphere, the same hospitality. We enjoy helping people have a good time when they are away from their domain and can relax." Tudi's husband was a rural mail carrier, another similarity between the women. The two families crossed paths back when Tudi would fix Bruce dinner and pie (the post office is a mere two minute walk from the property).
The Cornerstone Inn continues the idea of homemade cooking as well. "That helps make us different from most places because we still do all of our cooking the down-home way—homemade," said Pam. "And people really appreciate that. When you feel at home you always have access to the refrigerator or a snack," she added, and guests at the Cornerstone Inn have exactly that. Pam starts her day at 6:00 a.m. helping prepare breakfast in the main inn building on Franklin Street. Throughout the day there is coffee and fresh fruit available, but "the big to-do is the dessert in the evening," she noted. "Especially the pastries."
Pam has always been a hands-on personality and has had to adjust to more of a managerial roll as the business continues to grow and she hires more staff to maintain the inn. "I run around all day," she said about her post-breakfast activities. She does everything from shopping and folding sheets to bookkeeping and hiring. "It's very labor intensive."
All the work doesn't allow for more than a few days vacation at a time, but that's okay with Pam. "I take a 15–20 minute vacation every day, just me and God," she said. "We live in a vacation town, and I try to take advantage of that. I'm just really grateful for it."
With more rooms to rent and a steady stream of business, there is a lot to be grateful for. Pam believes there is good reason for the popularity of the bed and breakfast. "Getting out of your element is so vital for everyone, for your mental and soul health," she said. "Go somewhere where you don't have your normal responsibilities. Brown County is a place to go to reconnect and rejuvenate. It's a resting spot." Guests at the Cornerstone Inn and Cottages have few reasons not to rest well.

www.OurBrownCounty.com