Gift Certificates for Any Occasion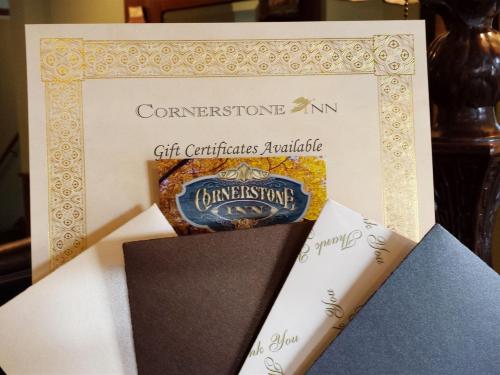 Cornerstone Inn Gift Certificates make great gifts!
They may be purchased in any amount or for any length of stay, by calling us at (888) 383-0300 or in purchasing in person. At this time, gift certificates can not be ordered online.
Merry Christmas!
Congratulations!
Thanks, Mom & Dad
Celebrating You on Your Birthday
Congratulations Newlyweds!
Will you Marry Me?
I LOVE YOU!
Gift certificates are good for one year after the date of purchase. PLEASE NOTE...when you use a CORNERSTONE INN GIFT CERTIFICATE to make a reservation, PLEASE CONTACT US BY PHONE at (888) 383-0300 so that we may verify your gift card/certificate. Keep in mind we do have a two night minimum on most weekends.
Refunds of deposits made with an online reservation will incur a 5% processing fee if gift cards or certificates are used for payment at check-in.