Add weekdays (Sun-Thurs) and we will re-rate them for half price!
STAY 1 NIGHT AT FULL RATE and get EACH additional weekday night (Sunday - Thursday) HALF PRICE! Valid January - August, and November - December. For example, Stay Saturday night and get Sunday night for half price. Or, stay Friday night and get the previous Wednesday and Thursday nights for half price. Not valid some holidays and during special events. Only a 2-night minimum is required for most half price night scenarios. Reservations including a Friday or Saturday night require a 3-night minimum to activate the half-price deal for our 3 tourist homes: Cabin 360, Tudie's Cottage and the Lodge Exclusive. ONLINE RESERVATIONS WILL BOOK AT FULL PRICE, BUT WILL BE RE-RATED BY OUR STAFF WHEN THE RESERVATION IS CONFIRMED.
All rates and accommodations specials include our "Top It Off" complimentary snacks & desserts each evening in the Main House. Rates also include one free parking space per room at our Downtown Nashville campus.
Our signature breakfast buffet at
Emma's
, located in the
Cornerstone Inn Main Building,
is open to the public but available to our overnight guests for the exclusive price of $9.95 per person per day. Breakfast may be added to your reservation or purchased through our breakfast host each morning. Our team of chefs prepares 3-4 specialty hot breakfast entrees which are different each day. Eggs cooked to order are also available by request. Breakfast at Emma's also includes sweet rolls, pastries, muffins, coffee cake, and Emma's signature granola - ALL made in house, as well as breads, bagels, breakfast cereals, yogurt, hot beverages, and orange juice. Our beautiful fresh fruit selection typically includes strawberries, blackberries, blueberries, raspberries, peaches, pineapple, and kiwi as seasonally available. Gratuity not expected. You won't find a breakfast deal like this anywhere else.
Breakfast at Emma's is amazing - you don't want to miss it!
Ring in the New Year at Cornerstone Inn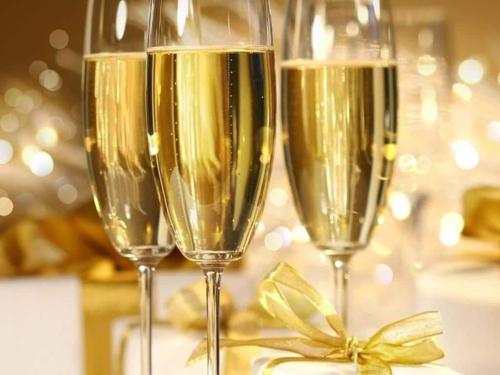 Our Four-Course Menu for the Evening
French Onion Soup
Autumn Salad
with mixed greens, mandarin oranges, strawberries, grapes
tossed with our honey balsamic vinaigrette dressing
Entrée Choices
Steak Diane with Portobello Mushroom and Demi-Glace
Pan Seared Salmon with Dill Cream
Chicken Cordon Bleu with Mornay Sauce
All entrées served with
Asiago Potatoes, Fresh Sautéed Vegetable Medley, and Baked Breads
Dessert Trio
Chocolate Cup filled with Chocolate Mousse
Mini Spice Cupcake filled with ganache and topped with cinnamon icing
Mini Apple Tart Tatin with caramel sauce
Coffee or Tea
Beer & Wine Cash Bar Available
Seating times: 5:00 p.m. - 6:30 p.m. - 8:00 p.m.
$100.00 per person
Enjoy the sounds of
"Elements of Jazz"
from 9:30 p.m. – 1:00 a.m.
Glass of Champagne at midnight
Call 812-988-0300 to make your reservations !
Kick off the New Year with us and enjoy our annual New Year's Day Dinner Buffet!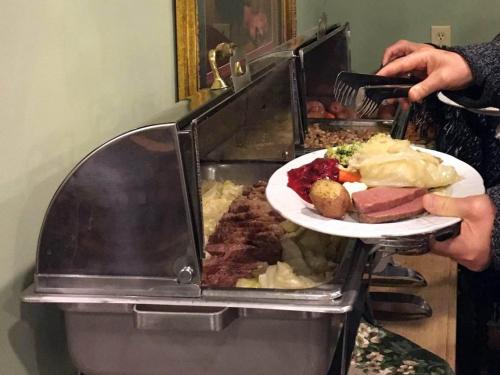 Stay overnight with us on Wednesday, January 1, 2020 and enjoy a tasty traditional New Year's Day Dinner prepared by Chef John and the staff of Emma's Cafe.
Our menu:
Corned Beef with cabbage, boiled potatoes and carrots,
black-eyed peas and more!
Dinner is our treat to YOU!